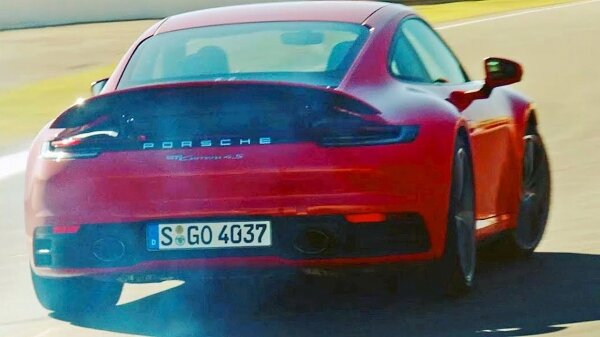 Watch now the new Porsche 911 Carrera 4S type 992 on track!!!
The turbocharged flat-six engines also enter a new generation with the new 911. In addition to compliance with the latest emissions standards by way of a gasoline particulate filter, the primary focus of advanced development here was on further enhancing performance. New, larger turbochargers with symmetrical layout and electrically controlled wastegate valves, a completely redesigned charge air cooling system, and use for the first time of piezo injectors combine to attain engine improvements in all relevant areas: responsiveness, power, torque characteristic, endurance, revving ability. In addition to performance enhancement of 30 horsepower (22 kW), achieving 450 HP (331 kW) at 6,500 rpm, the 911 Carrera S engine achieves an extra 30 Nm of torque: 530 Nm in total. This is available within a wide range of speeds, from 2,300 to 5,000 rpm.
Price: The Porsche 911 Carrera S costs from 120,125 euros in Germany and the 911 Carrera 4S from 127,979 euros, including value added tax and country-specific equipment. The new models can be ordered now.
🚘 Check out our merch: https://bit.ly/2TkD8va
➡️ Discover all new cars before anyone else! Subscribe now to YOUCAR the world famous car channel 👉https://goo.gl/5i54Vg
⚠️ Don't miss next videos: press the little bell ((🔔)) to get notifications
#porsche992 #porsche #porsche911